Art Gallery and Exhibition Space in the Netherlands
High Five Art is an exhibition space and art gallery with a special focus on textile art. Up-and-coming and experience​d artists can exhibit in our art space and you can visit us for interesting exhibitions.
Are you interested in amazing (textile) art of emerging and experienced artists? At High Five Art, we have new exhibitions waiting for you every few months. We try to be an art gallery for everyone, so you don't need to be a connoisseur!
Drop by some time! See our opening times.
From the 1st of november 2020 we do not take inquiries about possible exhibitions from artists. The reason is that we have planned exhibitions for several years ahead with a variety of artists from The Netherlands and abroad.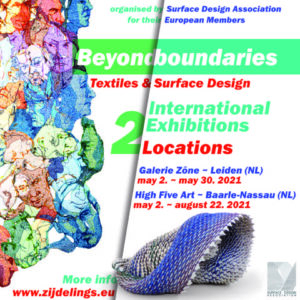 Now : Tilleke Schwarz – Stitched Stories – Contemporary Embroidery 
                      Opening exhibition: 6th of March: 15.00 hrs.  Tilleke Schwarz will welcome you at the venue,
Directions to travel to the Gallery: 
by car from Rotterdam: A16, A58 to direction Tilburg , exit 14 to N639 Chaam/Baarle-Nassau. The Gallery is in the village on the N639 (Bredaseweg) on your left side. Watch for the signs outside the Gallery.
by car from Amsterdam/Utrecht: A2, A27, A58 to direction Antwerp, exit 14 tot N639 Chaam/Baarle-Nassau further same as above.
By Bus: from Trainstation Breda and Trainstation Tilburg: take bus 132.  There bus drives through the street. Busstop Hoogbraak.