Art Gallery and Exhibition Space in the Netherlands
High Five Art is an exhibition space and art gallery with a special focus on textile art. 
Are you interested in amazing (textile) art of emerging and experienced artists? At High Five Art, we have new exhibitions waiting for you every few months. We try to be an art gallery for everyone, so you don't need to be a connoisseur!
Drop by some time! See our opening times.
From the 1st of november 2020 we do not take inquiries about possible exhibitions from artists. The reason is that we have planned exhibitions for several years ahead with a variety of artists from The Netherlands and abroad.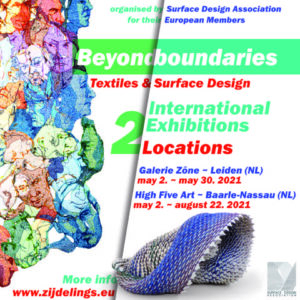 Upcoming: exhibition Jaqueline van Bergeijk: "Remains of the day" another look on used clothes. Jan/Febr 2024
                        :   exhibition Eszter Bornemisza (Hungary) "Approaches" – modern art on paper         
                                    and textile. March/April
Now open:   
 exhibition: "Tijdreizigers/Timetravellers" by Willy Doreleijers.
                            A serie of new textile artworks by this renowned      
                             artist.
Exhibition from 5th of November until 17th of December. Open: every sa/su from 11.00 hrs to 15.00 hrs.
Just finished: Belgian/Dutch TextileArt Group "Textase" 
                               Exhibition "Geborgenheid"/Security" 

Multiple views on this topic from 6 textile artists reflecting on lack of security in the world and everyday life.
 Recent exhibition:   The apple tree on the abandoned railroad line 
                           by Elin Noble  & Lasse  Antonsen
                                                                                     9th of July – 27th of August.
                                                     regular  opening hours for this exhibition: 13.00 -18.00
Festive opening on the 9th of July at 15.00 hrs. Door open from 13.00 hrs. 
Elin Noble and Lasse Antonsen are present on the 9th of July.
This exhibition runs until the 27th of August 
Opening hours: saturdays/sundays 13.00-18.00 hr.
 
photographer: Michael 
Stadler
Hi, you are very welcome at our exhbition at HighFiveArt Gallery Baarle-Nassau, the Netherlands.
See you there!
 JUST FINISHED:
EXHIBITION "SPOREN VAN TIJD" 7/5- 25/6 2023
                                                           MARIAN KASTELEIN: FELT-SCULPTURES
                                                           WILLY DE HEER            :  METAL-SCULPTURES
  EXHIBITION "CONNECTED" BY BELGIUM TEXTILE-ARTGROUP  
                                                           'ET CETERA'
                                            5th of march until 16th of april.
 Looking for modern textile art beyond tradition? Come and visit us! at HighFiveArt Gallery.
EXHIBITION "IN BEWEGING" FROM WEEFCOLLECTIEF METAMORFOSE
                                8th of January – 19th of February 
                                              OPENING HOURS:  SATURDAY/SUNDAY 11.00 HRS-15.00 HRS
QA-TRACES BY QUILT ART – AN INTERNATIONAL EXHIBITION OF QUILTART    PROFESSIONALS FROM SEVERAL COUNTRIES.
                                                                  
FROM 11TH OF SEPTEMBER  UNTIL 20TH OF NOVEMBER 2022
                On the following days the Gallery is open: 
                11, 24, 25 September 8, 9, 22, 23 Oktober 5, 6 19, 20 November
                      from 13 – 17.00 hrs. Attention! on 22th of Oktober 11-15 hrs.
 Visual Poetry – the art of Cherilyn Martin  8th of May -19th of June 2022
                   Special opening: Pentecost-weekend on saturday, sunday and monday: 13.00-17.00 hrs.
Statement Cherilyn Martin               
In recent years Cherilyn's  work has become more introspective.                                   
Previously known for her richly embroidered pieces and experimental use of techniques and materials, Cherilyn has chosen to follow a more minimalistic approach.
She now uses recycled paper and old/antique textiles in order to give new life to these discarded materials. 
Materials which contain memory and history of their own and which have their own stories to tell.                                                                                   
She selects poignant texts to bring into sharp relief the themes that underpin her work; strung together in a deliberate visual game to present a challenge to the viewer.  
Concepts such as loss, commemoration and emotion strengthen her autonomous  art work                                                                                                                                               
Her colour palette is subdued and combined with meditative 'slow stitching' an intimacy is created between the object, the viewer and the maker.